Tear open package of QuikClot® Combat Gauze™

Open clothing around wound. Remove excess pooled blood from wound, while preserving any clots already in the wound if possible.

Locate source of bleeding and pack QuikClot® Combat Gauze™ into wound. Use as much gauze as needed to stem blood flow. Remainder of roll can be used on top of wound or to wrap wound as injury requires.

Pack QuikClot® Combat Gauze™ tightly and directly onto bleeding source. More than one may be required

Quickly apply pressure until bleeding stops. Suggested time 3 to 5 minutes of continuous pressure.

Leave QuikClot® Combat Gauze™ in place. Wrap to secure the product in the wound.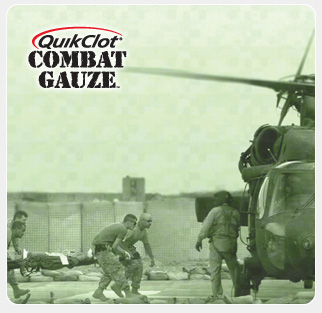 PRODUCT DETAILS
Product Name:
QuikClot® Combat Gauze
Item No:
150
NSN:
6510-01-562-3325
Specifications:
Width   7,5cm.
Height 3,7m.
CSI Uluslararası Hizmet  ve  Danışmanlık Ltd. Şti
Hatır Sokak 18/2  06700 GOP ANKARA - TURKIYE

| | |
| --- | --- |
| | Tel: +90 312 448 23 03 |
| | Fax: +90 312 448 23 01 |
| | info@csimedikal.com |