1- Open and remove all packaging

2- Stretch blanket sideways to its limit to open air channels

3- Place blanket on stretcher or on ground, preferably with further insulation below patient

4- Place patient on blanket, with head and feet at the ends marked, and head enclosed in the integral hood

5- Close blanket using central Velcro closure and tighten draw cord at foot

6- Tug blanket lengthwise to re-form pleats

7- Check that heat pads are located over upper and lower trunk areas

8- Connect the upper two brown hooked strings diagonally across upper chest/neck, and the third brown string straight across waist, do not over-tighten

9- If desired, use side openings for access or limb protrusion

10- Continue to monitor patient's temperature at regular intervals

NOTES

The heat pads are self-activating. Once the packaging is removed they will warm upon contact with air. They will take several minutes to reach their full working temperature. Open in advance where possible.

If desired, heat pads may be removed so that they can be re-positioned or discarded.

If access to the head is needed, the pre-closed draw cord at the top end of the blanket may be released.

This blanket is designed for use with the casualty enveloped by the blanket. However it is possible (though less warm) to place the blanket over the casualty. In this case it will normally be better to slacken the draw strings at either end, remove the heat-pads from the blanket (see 2 above) and re-position them over the casualty's trunk.

Where possible, avoid contact between powder snow and the hook and loop closures, since they can become clogged.

Users should be familiar with the symptoms of hypothermia and its treatment.

 

CAUTION
The heat pads are designed to give a slow steady heat, but they can cause discomfort or even burns if used against bare skin (especially on casualties with impaired circulation). Do not use the heat pads to warm the extremities of a hypothermic casualty – this can be fatal. Do not open the sealed pouches – they contain iron powder. In case of contact with eyes or skin, wash off with clean water. In case of swallowing, consult a poison control center.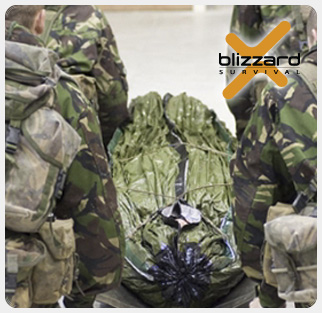 PRODUCT DETAILS
Product Name:
Blizzard Heat Blanket
Item No:
BH01
NSN:
6515-01-532-8056
Specifications:
Vacuum Pack: 7,6 x 23 x 31cm.
Weight: 1,81 kg.
Color: Olive,Siver

,
CSI Uluslararası Hizmet  ve  Danışmanlık Ltd. Şti
Hatır Sokak 18/2  06700 GOP ANKARA - TURKIYE

| | |
| --- | --- |
| | Tel: +90 312 448 23 03 |
| | Fax: +90 312 448 23 01 |
| | info@csimedikal.com |